To be honest, Angkor Wat with young kids can be trying. But with the right expectation and our guide to Angkor Wat with kids, it is definitely possible. So here is all the information you would need to plan a trip to Angkor Wat with family.
Exploring Angkor Wat is probably every history buff's dream. The pictures of the lost city and the temple ruins have fascinated me for years. The beautiful temples finally did their magic and we decided to visit Angkor Wat with our two-year-old kid.
What is Angkor Wat?
Angkor Wat complex is the world's largest religious structure and the three-level temple structure in Siem Reap, Cambodia. Designed to look like the abode of ancient Hindu gods, Mt Meru, Angkor Wat was built by King Suryavarman II in the 12th century. The "city of temples" was dedicated to God Vishnu. It is said to be as large as Berlin covering more than 400 acres. After the decline of Khmer empire in the 15th century, the beautiful city was lost in time.
The reason for the decline of Angkor is still a mystery with theories ranging from foreign attack to natural calamity. However, Angkor Wat is said to be have protected by the locals. While the other prominent temples of Angkor were claimed by the surrounding forests and nature, Angkor Wat stood the test of time. The rest of the world rediscovered Angkor in the 1860s. In 1992, the Angkor Archaeological Park was declared as UNESCO World Heritage Site. Today millions of tourists flock to Cambodia to witness these mysterious temples that embody the mysteries of an impressive civilization.
How to get to Angkor Wat
Angkor Wat is a semi-difficult destination if you are traveling to Asia for the first time. Siem Reap is the closest city to Angkor Wat and has an international airport. If you are traveling from Thailand or Vietnam, you can also take a bus. With family, we recommend flying AirAsia which often has promotional tickets and discounts for a budget trip.
Travel Tips to explore the Angkor Archaeological Park
Build a little bit of context While we like exploring a place with a fresh mind, we found it helpful to know a little bit about the history of Angkor Wat. We did most of our research online and visited the Angkor National Museum in Siem Reap to connect the dots. We found it helpful especially in understanding the religious transformations and symbols of Hinduism and Buddhism found in the temples.
Early Risers score the day If you wish to beat the heat and the crowd, visit early. The park opens at 5:30 am and the temples look even more mesmerizing in the early rays of light. Since we traveled with a toddler and wanted to avoid being out in the sun, we used the morning to explore before we returned to the hotel for breakfast.
Get a pass and be smart It is quite impossible to cover the park in a day without rushing and missing out on important parts. We recommend getting a 3-day or 7-day pass to explore the complete park including the smaller temples. However, if you are planning to explore the main sights only, here is a tip to utilise your one day ticket to the max. If you buy a pass after 4:30 pm, then that evening is free in the one day pass for following day. You can then visit Angkor Wat for some sunset pictures and use the next day to explore the rest of the park.
Be prepared to walk and trek Exploring the park can be a little tedious and you should be reasonably healthy to explore the park in detail. The ruins are spread across and may not have continuous shade from the sun. If you are traveling with kids, prepare a plan on the sights you want to see and ensure to buffer in a lot of breaks.
Wear light clothes and abide by the dress code While the ruined temples are no longer active for worship, they still are religious spots and should be respected. Some temples specifically need visitors to cover their knees and shoulders.
Be prepared for the heat The weather can get very humid and ensure you carry enough snacks and water for the trip. Carry your hat, sunglasses and sunscreen and be prepared for sudden weather changes. We were suddenly met with rains on our last evening there.
Hire a guide The complex is exhaustive and can get confusing. On our first day, we hired a tuk-tuk without a guide. While it was a great way for our son to enjoy the trip, we found it lacking the magic of the locally brewed stories. It was difficult to understand the symbols in the temples and their cultural significance. The next day, we took a guide and it was definitely a richer experience for us. Our guide also helped us try out the local cuisine and suggested some good places to spend the evening.
Still wondering if 'Angkor Wat with kids' is for you, here is what you need to know…
The best time to visit Angkor Wat and Siem Reap is from December to February when the weather is pleasant. It also means that you will meet most of the tourists during this time. So get creative and avoid the crowd by tripping early morning.
If you are planning to explore the sites extensively in less than three days, it may be tough for the kids. Come up with a plan about what really interests you. Discuss with your guide to build your itinerary for the day.
Be prepared for rainy days, super hot days or sick days and keep a day as a buffer. We recommend at least 3 days to visit the main sites with enough breaks in between for kids to rest, eat and nap. Look for signs like these and take a break. Do not push kids, as over exhaustion and dehydration are common.
If you are traveling with young kids, make sure you carry a hat, sunscreen, water bottle, snacks, chocolates, first aid etc . We always carry an umbrella irrespective of the weather.
The grounds are not really stroller friendly and be prepared to walk quite a lot with the baby. Infants can be carried in a baby carrier and toddlers can be left to explore the sites under careful supervision.
Some hotels have kids-area and nanny services, in case you want to leave kids out of the temple tour. Do enquire beforehand and book their services, shall you need it.
Where to stay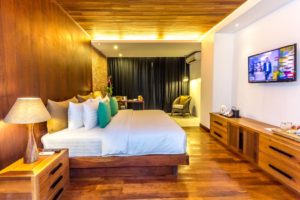 Choosing the place to stay especially if you are traveling with kids is very important. We stayed at Nita by Vo Luxury Hotel an award-winning luxury hotel. Located very close to the West Gate of Angkor ruins, it was perfect for us to shuttle between the hotel and the sites so that our toddler was comfortable.
We were highly impressed by the courteous staff. They went above and beyond to make our son comfortable and feel at home. They welcomed us with smiles and drinks and the check-in process was quick. Next, we were given a brief about the sights and some handy maps. We also got to select our daily fragrances for the room.
The rooftop pool sets a romantic ambiance to relax after a tiring day of walking. The best part of our stay was that the staff made us feel we were their top priority always and customised everything for us including food, massages and much more. The comfort and service in Nita by Vo is absolutely five star and we would recommend this hotel anyday.