Do you remember reading about Mangal Pandey and his mutiny that led to the uprising that ended East India Company? The revolution of 1857 defined India's fate in many ways. The violence showed the increasing discontent amongst Indians and the British government took direct control of India, dissolving East India company. In the history of India's freedom movement, this rebellion is considered to be the earliest struggle that inspired freedom fighters throughout the country. And it all began in the oldest cantonment of India, Barrackpore in Kolkata, West Bengal.
As per folktales, this town was known as Chanak and Barbuckpur before the British built their first cantonment in India here. The first British barrack or cantonment in India was built here in 1772, providing the town with its name. Barrackpore was not only the administrative and military base during the British Raj, it was also a prominent retreat for British officials. And what a perfect vacation place it would have made! The old colonial and gothic style bungalows with sprawling gardens on the banks of river Hooghly and the serene river view must have made them feel close to England.
Our Barrackpore Trip guide comes as recommended by locals and we were able to see quite a few places with restricted access because of prior permission. While the old British cantonment is still occupied mostly by the Indian Army, the main administrative buildings are the current regiment's office. However, the other part of the cantonment which is located on the bank of river Hooghly and can be reached by Riverside road and Park road is open to everyone. Our Barrackpore Trip guide will help you spend a day in Barrackpore and soak in its rich history.
Gandhi Ghat
This ghat has a memorial and is enshrined with a part of Mahatma Gandhi's ashes. There is a mural inside depicting his important work and is very detailed. The sunrise and sunset view at this ghat with the serene river flowing by is magnificent.
Annapurna Temple
This beautiful temple was inaugurated by Shri Ramkrishna Paramhansa in 1875 and the architecture is inspired by Dakhineswar temple, built by Rani Rashmoni. The Annapurna temple, also known as Rani Rashmoni temple locally, was commissioned by Rani Rashmoni's youngest daughter, Jagadamba Devi. As per local belief, Jagadamba dreamt of Ramkrishna asking her not to build a grander temple than her mother. And so Annapurna temple has only six Shiv temples as compared to twelve in Dakhineshwar.
This temple is also believed to have been in a legal tussle with British administration over the lion statue at the entrance. Like Rani's previous clashes with British regarding tax imposed on poor fishermen and stopping religious procession, the courts again ruled in favor of her family. The locals say that this was also to avoid public opposition and rioting in her family's support.
The temple is next to Rani Rashmoni ghat and the view of the river with humble fishing boats against the backdrop of Serampore's industrial belt is gorgeous.
Lalkuthi Fire Station (Old Building)
This ruined building with its expansive ground is mostly abandoned other than the local boys practicing cricket here every day. The local boys told us that this was once the zamindari house of Rani Rashmoni and her family in Barrackpore.
This also served as a fire station base for some time before being abandoned. How easy is it to imagine this fascinating house being the lavish abode of bygone Bengali royalty!
Barrackpore Government High School
The school was established in 1837 by George Eden, the Earl of Auckland while he was the Governor General of India. The school was started to educate Bengali boys from impoverished local families and was run out of governor's own money. He arranged for a stipend for senior students to teach their juniors. He also hired the best teachers from Calcutta and around to ensure that the students receive the finest education.
Another exceptionally progressive thought that this school was based on was that there was no room for the caste system in here and every student was treated equally. The old buildings are still in use as the headmaster's office and primary classes.
We were given the school tour by an alumnus who passed out in 1964. It was enlightening to see him interact with the current students and was touching when the students found his class photo to show us.
St Bartholomew's Cathedral (Garrison Church)
This Gothic-inspired church was earlier known as Garrison church. Built in 1831, this church was a place of solace and worship for the British officials and their families.
Mangal Pandey Park
This park is dedicated to the earliest national hero, Mangal Pandey who raised his voice against Britishers leading to Sepoy Mutiny in 1857. It also has a children's park and is frequented by locals. You can also take a boat ride through Ganga from here.
The Oldest Cantonment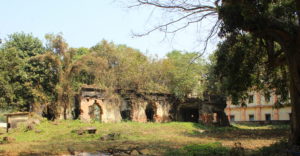 A walk down the Riverside road and Park road in the cantonment will give you a nostalgic trip through many British bungalows and houses. While some have been maintained and are offices and mess now, many are in complete ruins.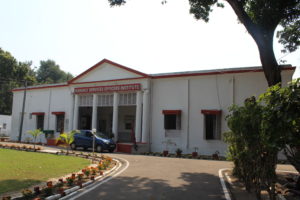 The view of Hoogly river from the gardens of these bungalows are mesmerizing. They don't fail to make you wonder how lovely this whole place would have been at that time with no urbanization at all.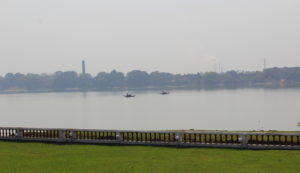 The other side of the river is Srerampore which also has many heritage buildings and that trip is for another time.
Gandhi Museum
This museum is located on the riverside road and has a vast collection of books and letters written by Mahatma Gandhi. There are also a lot of photographs that are related to the life events of the Mahatma. The museum also houses a library which is open to the public.
The old Kothi of East India Company
An old bungalow owned by the East India Company and in ruins today. This kothi is believed to be haunted. Locals prefer not to pass this house after sunset as strange sounds have been heard here.
Sadar Bazaar
The old cantonment bazaar is another interesting place to see the old buildings and new ones coexisting. An old cemetery close to this bazaar has graves dating back to the time of British Raj.
There are many forgotten buildings in the cantonment and we do wish to explore more the next time. Would you like to visit this city someday?
Pin this for later!