What are the top places that come to your mind when we talk about Andaman islands. I am guessing, most likely – Port Blair, Havelock and Neil Island. And why not! They form the most visited route for a vacation in Andaman and Havelock and Neil Islands are truly beautiful. But do you know that Andamans comprises of about 300 islands with palm-lined, white-sand beaches, mangroves and tropical rainforests and about 10% of these islands are inhabited by humans. That means there are definitely more than 2 islands that you can explore and enjoy….
With the same thought, we planned our 10 day itinerary for traversing the Andaman islands from South to North by road and sea.
Route –
Port Blair(1 night) ->Mayabandur(1 night) -> Diglipur(1 night) -> Long Island(1 night) -> Havelock(2 nights) -> Port Blair(3 nights)
I was most interested in visiting the Cellular Jail which is a national monument due to it's association with the most distinguished freedom fighters of India who were imprisoned here. It bears witness to the pain and sacrifice made during India's freedom struggle leading to Andaman being named as Kalapaani. The jail was called Cellular Jail as it's structure was made of individual cells meant for solitary confinement of the prisoners.
After a tryst with history, we also wanted to try out snorkelling and scuba diving and where else if not here. Andaman  has the best sites in India for scuba diving and snorkelling. I was very intrigued by the swimming with an elephant concept that can be experienced in Havelock Island.
Day 1: Port Blair
We began our journey from Delhi and had a connecting flight to Port Blair via Chennai. The first glance at the blue waters was enough to lift our spirits. It looked like we were flying over a turquoise blue carpet with green flecks of the islands below us.
Once in Port Blair, we checked in @ Megapode resort in a dome shaped room on the top of a hill facing the sea. We spent the lovely evening in Corbyn Cove beach. Loads of options for water sports like jet ski and boat rides.
For dinner we went to a vegetarian restaurant called Annapurna on MG Road. Port Blair is very accessible in terms of transport, with autos everywhere however you can also book taxis for day trips. We did not try exploring buses here, however buses seemed quite frequent near all the landmarks in the city.
 Day 2: Port Blair – Baratang Island – Mayabunder
Next day we worke up at 4am,  to embark on the first half of our road trip to Diglipur in North Andaman. We had to pass through the reserve forest inhabited by the Jarawa tribe to reach our next destination – Baratang Island to see the limestone caves and mud volcano. We had our breakfast at a roadside stall while waiting at Jirkatang check post for the gate to open at 6 am. The Jarawas are part of the indigenous tribes of the Andaman Islands and the Great Andaman Trunk Road passes through their area. Other than having a history as traditional hunter-forager-fishermen, they also have a reputation as warriors and uncompromising defenders of their territory. The Jarawas have lived through British encroachment in the 19th century, as well as Japanese occupation later on.
Once inside, we were asked to roll up the windows, as any attempt to contact Jarawas, photographing them or stopping vehicles while transiting through their land is prohibited to protect them from outsiders. We were moving as a part of a convoy and the drive through the jungle was beautiful and exciting. We reached Nilambur jetty to take our boat ride to Baratang island and though it's just a 15 min ride through mangrove it is quite refreshing on a hot day. We really liked the limestone caves however the long trek to reach the mud volcano on a super hot day did not turn out to be the best experience.
Another must do for nature lovers is a speed boat trip to Parrot island from Baratang to experience a sight of thousands of parrots returning home just before sunset. This needs a bit of planning for night stay in Baratang in advance and since we already had plans to chill at Karmatang beach in Mayabunder, we headed there. It is an eco tourism beach and has a turtle nesting farm.
Day 3: Mayabunder – Ross & Smith Islands – Diglipur
We started for Diglipur early morning and on our way went to Ross and Smith Islands. Ross & Smith Islands are joined by a sandbar that is visible during low tide but gets submerged during high tide. There is a Marine Sanctuary on the island which makes it an ideal place for spotting beautiful coral reefs and colorful species from the underwater. The water is so clear that you can see corals and fishes off the beach.
We met a gang from Switzerland there who were doing snorkelling and shared some drinks. They told us about their adventurous treks to Alfred caves and Saddle Peak in Diglipur. We came back to the mainland after a couple of hours of snorkelling and swimming.
We spent our third night in Pristine Beach Resort in Kalipur beach in Diglipur  The owner of the hotel told us that turtles hatch their eggs in the night and if he spots them in the middle of the night we can check them out too. During dinner we met our friends from Switzerland again and after a quite dinner with them, we called it a night. In the middle of the night as promised, we were called to the beach. Half asleep, I have a unique memory of seeing baby turtles rushing to the water.
Day 4: Diglipur – Rangat – Long Island
Next day morning, we started for Rangat from where we took a ferry to Long Island in the afternoon. We had a little bit of drama on the ferry where two drunken guys beat each other up but it was resolved soon. The ride was very pleasant with cool breeze and calm water around us.
When we spotted Long Island, we realised how far it is from the hustle bustle of life. Long Island is part of the Eco tourism initiative run by Andaman govt.The island has just one hotel called Blue Planet and as an eco-destination, the villagers do not use vehicles. The hotel is very basic and it's a great place to meet fellow travellers. Due to it's limited options in transport, it may not be an ideal destination for senior citizens and or families with small kids. We went to the nearby beach which is 5 mins walk from the hotel and spent the rest of the evening there.
Day 5: Long Island – Havelock Island
Next day morning, we went to Lalaji Bay beach which is about 1.5 hours on foot or about 45 mins on motorbike. There is a trail off the road and the trek to the beach and back is through a jungle. So, using an insect repellent is a good idea.
After a quick lunch, we took the afternoon ferry back to Havelock. Once the ferry started the view in the open sea was beautiful. The color of the water changed gradually as it turned turquoise green and then blue. We spent some time in the captain's cabin, who taught us the basics of sailing. After about 2 hours, we reached Havelock jetty and took an auto-rickshaw to Silver Sand Beach which is located between Vijaynagar beach and Kalapathar beach. The property is beautiful and a must do is the romantic dinner they set up right on the beach with a personalised server. We had an early dinner and some well deserved rest.
The other beach resort that we were considering but missed our window to book is Barefoot at Havelock . We did explore the grounds though and it's  just magical. It's a jungle resort with a private beach and has a plethora of activities to keep the whole family engaged. I have locked it for the next time I visit Havelock.
Budget hotels with AC that I hear good reviews about are Havelock Island Beach Resort, Symphony Palms, WindFlower and Cross Bill  Beach Resort with tariff around Rs 5000 ($80) . Some good eco resorts close to beaches are Emerald Gecko , The flying elephant , The Ocean Blue Resort and Pano Eco Resort with tariff around Rs 2000 ($30)
Day 6: Havelock (Beach Hopping)
 Havelock has numerous beaches, all with designated numbers and the most famous is Radhanager Beach No 7. Beach No 1 is the beach adjacent to the jetty and is crowded and a little dirty. Beach No 2 is used by diving schools for their diving programs.Elephant Beach is the water sports hub.
We decided to hire a scooty and indulge in beach hopping all day. We started with Kalapathar Beach and snorkelled there for sometime.
We then just drove down another 3 kms down to Kalapathar village to see the village life. We met some locals and started chatting with them about the history of this island. One of them told us about a compelling story of a convict named Tewari, who was a British sepoy and was brought to Port Blair after 1857. He managed to escape from Ross island with some other convicts. While the group of about 130 escaped convicts wanted to seek refuge in Rangoon, they got lost in the jungles of Andamans and met the local Andamanese tribes. While most of the others were killed, Tewari survived even after being shot with arrows repetitively. He was then included in the Andamanese community which was unheard of and even took a wife from the tribe. However, he betrayed the community during the Battle of Aberdeen, by informing the British officer about the Andamanese plan. The Andamanese fought with basic weapons like knifes, bows and arrows against the British guns and the informed British almost annihilated them. He told us to definitely visit the Battle of Aberdeen memorial in Port Blair Sports Complex when we reach Port Blair.
By lunchtime, we were in Govindnagar market where we had lunch and rested a bit. Govindnagar is the main market area with grocery shops, restaurants, pharamcy, ATMs and internet cafes. There are also many scuba diving schools with their centres here. We explored a bit and thenWe next headed to Beach No 3 which was mostly vacant except some guests from the nearby resorts.
For Sunset, we headed towards Radhanagar beach No 7. This beach has been voted as "Best Beach in Asia" by TIME in 2004. The drive to reach this beach was through lush forests where there was not a single soul to be seen. A rare feeling when you have lived in country with a population count as ours. We also saw a couple of monitor lizards on the road and stopped our scooty to let them pass. The last stretch to reach the beach can get a bit uncomfortable on a two-wheeler.
However all our tiredness was gone when we reached Radhanagar beach. We walked down to the end of the beach and it was the most beautiful walk I have ever taken as the color of the water kept changing with the setting sun and the evening sky. The beach is as pristine as it can get and the greenery surrounding the beach just adds to its beauty. We were lucky to spot some beautiful corals.
Another interesting thing about Radhanagar beach is the elephant called Rajan who accompanies swimmers and snorkelers in calm waters and the experience is claimed to be amazing.
On our way back we realised we had no time to check out Elephant beach the same day and planned to trek there the next day. It's hub for water sports and boat rides in Havelock.
Day 7: Havelock – Port Blair
The next morning, we woke up to rains and our plans to do scuba diving took a plunge. The sea had turned an ominous grey with angry waves changing the whole paradise feel.
On further enquiries made with our Port Blair hotel, we realised the weather was decent in mainland and were advised to head back to mainland before the ferries stop running due to bad weather. We decided to cut short our Havelock trip by a day and started discussing options. For breakfast we met a couple and while in conversation with them realised they wanted to extend their stay in Havelock but return tickets for today's ferry. We discussed and agreed to exchange our tickets . So in a matter of 15 mins, we were rushing to pack our stuff and make it to the next ferry. We barely made it in time. We booked a room for the night in Blue Bridge Homes and were quite happy with our room.
To shake of the melancholy of changed plans, we quickly decided to head for the Light and Sound show in Cellular Jail followed by Light House Hotel for drinks and dinner.
Day 8: Port Blair 
The day was cloudy and was super windy but seemed just right for us as we had planned visiting the Cellular Jail. A walk down the history and a tribute to the freedom fighters, was the goal for the day. The museum that narrates the story of sacrifice and hardships for India's freedom, made me really think of the selflessness of these heroes who had willingly decided to give up everything for a greater cause. The amount of torture and pain that the prisoners were inflicted to, made even the British officers hesitate. Just made me wonder how we forget the history sometimes and take our freedom for granted.
We took a guide, so as to not miss anything at all and realised it was a great idea. Our guide shared a lot of stories about the Cellular Jail and Andaman, many that we did not know from the history books from school or from guide books.
One story that stuck to me was about Kanhoji Angre, a Maratha admiral who had his base on the island in the early 18th century. From there, he attacked passing Portuguese, Dutch and English merchant vessels on their way to or from their various Asian colonies. In 1713, his navy even succeeded in capturing the yacht of the British Governor of Bombay. Despite many efforts by the British and later a joint military force of British and Portuguese naval forces, Kanhoji Angre was never defeated. He died in 1729. Wonder what would have happened if he had more support from mainland to defeat the colonial rulers and what if we were not ruled by the British at all.
By the time we were done, it was early evening and we headed to Marina park which has a park by the sea and a beautiful bridge on water to the Jetty. It also houses an aquarium which is average. During the day there are many options of water sports like jet ski, sea walk, glass bottom boat ride etc that one can try. The boat for Ross Island, Viper Island and North Bay leave from the Aberdeen Jetty. We also visited the memorial commemorating the Battle of Aberdeen as told by our friend from Havelock. The inscription reads 'This monument is built in the memory of those Andamanese aborigines who bravely fought the Battle of Aberdeen in May 1859 against the oppressive and retaliatory policy of the British regime'.
Day 9: Port Blair – Wandoor – Jolly Buoy
After an early breakfast, we started for Wandoor from where we took a steamer boat to Jolly Buoy island.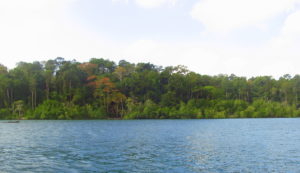 We snorkelled and enjoyed the glass bottom boat (included in the island ride). The water is crystal clear and there is a variety of corals and fishes that you can see. For bird lovers, you can combine this with a late afternoon spent in Chidiyatapu.
We spent the evening at Wandoor beach and wrapped up our vacation with a cozy sea view dinner @ Sinclair's Bay View.
Day 10: Port Blair – Bangalore
Back to reality with pocket full of unforgettable memories from a little paradise known as Andaman.
Inspired? Post this to your Pinterest Board and show some love by sharing.