Andaman is a heaven for water sports and the crystal clear water make it a perfect place for dives. If you have not tried any of these adventure sports before, Andaman Island is the perfect place to dip your toes.
Scuba Diving
Andaman offers many unexplored sites for diving with a great variety of beautiful and colorful corals and sea life. The diving in Havelock and Neil Island is a fascinating experience and the rates range from Rs 3500 to Rs 6500 depending on the level of expertise of the diver. You can book these activities directly at your hotel or check out the market center for best rates. You can also try some very unique experiences like swimming with Rajan, the elephant and diving with Dugongs at Mac Point in Havelock Island. The dugong is a Sirenian sea mammal and is the state animal of Andaman & Nicobar Islands.
A thrilling Night dive @ Lighthouse
Dive with Dugong @ Mac Point
Vibrant Aquarium for first-time divers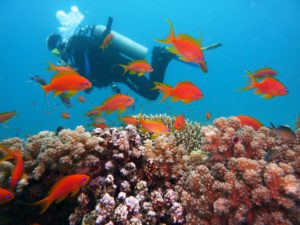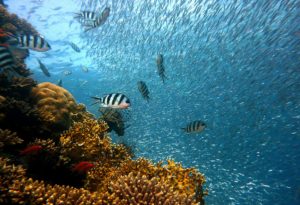 Swim with turtles @ Baracuda City
Experience diverse sea life @ Seduction Point
Myriad's mischief & K Rock @ Neil Island
From Port Blair, you can drive to Wandoor and either take a trip to Jolly Buoy or Red Skin Island which is part of the Mahatma Gandhi Marine National Park.
Cinque Island from Wandoor
Similar to Ross & Smith Island near Diglipur in North Andaman, Cinque Island is a pair of islands joined by a narrow sandbar. You need to charter a boat from Wandoor and get a permit from the forest department and hence it would not really be a budget trip but a memorable one never the less. The water clarity is great and the beach is very remote.
Bala Reef, Little Andaman
Diving photos Source
Experience EcoTourism in Andamans
Turtle Nesting @ Diglipur, Snorkelling  @ Ross & Smith Islands, Mangrove boat rides @ Mayabunder, Stay in an Andamanese hut @ Long Island
As a part of Eco-Tourism initiative, there are many destinations in Andamans which are being developed sustainably. While the accommodation and facilities may be very basic but these locations truly take you close to nature away from the hustle bustle of life. We had visited Mayabunder, Diglipur and Long Island via an exhilarating road trip and we would definitely want to visit Little Andaman the next time.
How to get there: Little Andaman can be reached by daily government ferries from Phoenix Bay and Haddo Wharf in Port Blair. The journey takes 6-8 hours. There are helicopters also available that fly connect Little Andaman and booking needs to be done well in advance.
The beaches in Little Andaman are pristine and beautiful and there are also a couple of waterfalls. You can try snorkeling, diving and game fishing. A perfect location for relaxing and indulging in the art of doing nothing.
Visit Barren Island on a charter boat or by Helicopter
Barren Island volcano is India's only active volcano and you might remember it from news of volcanic eruptions in 2016 & 2017. While you cannot get down on the island, you can take a trip around the island on a speedboat or a helicopter. You would need a permit from Forest Department to do so.
An interesting fact about the islands is that the island is said to be inhabited by feral goats. While their origin is a mystery, legend says that some goats were offloaded by a passing British ship in 1891 following the practice of leaving livestock on islands just in case they were ever stranded there.
Trek to Saddle Peak, Diglipur and Mount Harriet National Park
Saddle Peak is the highest point of the archipelago in the Bay of Bengal. The only river in Andamans, Kalpong, flows through the forest.The trail is 8 km long and a challenging one. However, the view has been claimed to be worth the effort by friends who have accomplished this feat.
Mount Harriet trek is a comparatively easier trek. You can reach there by boat from Chatham jetty near Port Blair. It's a must for nature lovers and adventure junkies.
If you observe a 20 rupees Indian currency note, the picture on the back is this view. It has been taken from Mount Harriet National Park.
Can you spot the similarity?
Experience Bioluminescence during Night Kayaking @ Havelock
This is definitely a once in a lifetime experience and we have saved this for my next trip. If you have seen the movie " Life of Pi " then you most probably know how beautiful it can be. Otherwise picture yourself sitting on a kayak on a moonless night, with stars above and pixie dust in the water. A view to die for.
So which of these experiences totally blew your mind? Share with us any other offbeat experience from the isles that we forgot to put on our list.
Short on time? Decide between Havelock Island and Neil Island.