Traveling through Sri Lanka, the one thing that stands is the warmth of hospitality. Sri Lankans are very friendly and will do almost anything to show you the best of their country. We were helped numerous times by total strangers and there was a sense of eagerness across to make us feel welcome and comfortable. Sri Lankans love kids and if you are traveling with young kids, be prepared for a lot of attention and friendly chats.
Visiting Galle was no different but the best part of our trip there was our stay in Why House, a luxury family boutique hotel in Galle. An oasis of tranquility, the property spreads across 3 acres, surrounded by paddy fields and jungles. Being so close to nature, it has an easy and laid-back vibe, giving you a feeling of stepping into a retreat the moment you enter. While I was still adjusting my eyes to the serenity of the colonial style bungalows set in picturesque gardens after a drive through the bustling streets of Galle town, the Why House team reached the gates to welcome us. The whole team led by Henrietta exemplifies Sri Lankan hospitality. Always smiling and ready to help, Henrietta and her team are experts in making your family holiday a wonderful experience with their eye to detail and genuine care.
Why 'Why House'?
I was quite curious to know more about the name of the hotel and it does have an unusual story behind it. The hotel is privately owned by a British architect who was on his first trip to Sri Lanka when things weren't going exactly smooth. He wondered why Sri Lanka but he found a good deal on a piece of land and bought it. He built the main house and some smaller villas but still wondered why this house and why this adventure. And in resonance with the same sentiment that he felt at the beginning of this journey, the owner named his hotel 'Why House'.
Why House, is located at a walkable distance from the beach and about 15-20 minutes away from the UNESCO world heritage site of Galle Fort. It is a family oriented hotel and has a beautiful pool and wonderful lush grounds to keep the kids engaged and busy. The rooms come with a private terrace that overlooks the gardens. The main house and the garden pavilion is also where you would most likely find Nigella and Tigga the hotel pet dogs. Nigella, the resident Dachshund is lovingly called Jelly and is a hit with kids.
The Facilities
Time seems to stand still in Why House with a breezy atmosphere and a slight hint of British Ceylon. The colonial-style main house reminds of the British Bungalows often seen in erstwhile cantonment areas with lush green lawns and gardens around. The suites in the main house are spacious with waiting rooms and grand en-suite bathrooms. The terraces are perfect to relax and read or spend some time chatting with new friends. I was pleasantly surprised to see how easy it was to meet and get to know other guests. Every evening, it felt like a dinner party and catching up with old friends from different countries. And the kids seemed to have formed their own party.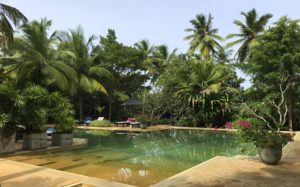 There is plenty to do yet not do in Why House if you are seeking a relaxing holiday. The large pool and the loungers around give a beach-like ambiance and the pool has a sand-hued bottom. Ayurvedic and Aromatherapy massages can be booked in the massage pavilion set amongst the lush gardens. You could also request a cooking demo to learn how to cook popular Sri Lankan dishes like curry and hoppers. Generally once a week, there is a cultural show organized in the evening with music, dancers, traditional costumes, fire breathers, tumblers followed by a traditional Sri Lankan dinner. We were lucky that the show was organized during our stay and the show is a cultural delight. The dinner was also very interesting as you could create your own hoppers with various fillings and curry. A very unique and quite tasty twist to the traditional flavors of Sri Lanka!
What to See
Why House can be a good base to visit Galle Fort and nearby spots. The beaches on the south coast are very scenic and popular beaches like Matara, Tangalle, Mirrissa and Unawatuna can be covered as day trips. The hotel also arranges safari trips to Yala National Park and Udawalawe National Park.
We had planned our trip to Galle basically to visit and explore Galle Fort for a couple of days but in addition, we loved our time at Why House. It proved to be the perfect place to rejuvenate and socialise after a tiring day of safari or a walking tour of Galle Fort.
We were hosted by Why House for a couple of days during our trip to Galle and nearby places.